Streamline your business and improve productivity. From ladder racks to rubber mats, tool boxes to partitions, we have the solution to fit your needs.
Trucks have come a long way since we started Kerr Industries, but the fundamental purpose of a work truck remains the same: to work efficiently, safely and reliably. At Kerr, not only do we consider the product going into a vehicle but also how it is engineered, installed and the logistics behind getting vehicles through production and into active service quickly. We are a ship-through facility for most of the major automotive manufacturers, and our extensive knowledge of rail and vehicle transportation systems, coupled with our vehicle inventory monitoring capability, makes getting your new work truck easy, no matter where you are located.
At Kerr, we use the same systems, procedures and people for every customer, whether you have one vehicle or a few hundred. We can recommend the right equipment for each application, without bias toward any one particular product. In addition, we have the ability to design and build just about anything you might require. Through our body shop, we offer OEM-quality repainting services: we can add a second color or change the color of a vehicle in any number of different finishes. Our decal shop can also design, manufacture and install any type of vehicle graphic, from the simple to the complex, or we can install the corporate identification you supply. Kerr Industries is a one-stop solution provider for your commercial vehicle or fleet.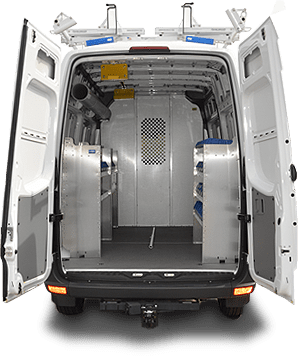 Modern business can be demanding. Kerr Industries' team of Commercial solutions experts can recommend the right equipment for your specific need… then install it! Doing business with Kerr is seamless and easy, because we understand commercial businesses.